In recent years, the number of dietary and weight loss supplements has grown exponentially, which is probably not surprising. According to a 2008 survey, 33.9% of American adults attempting to lose weight used dietary supplements.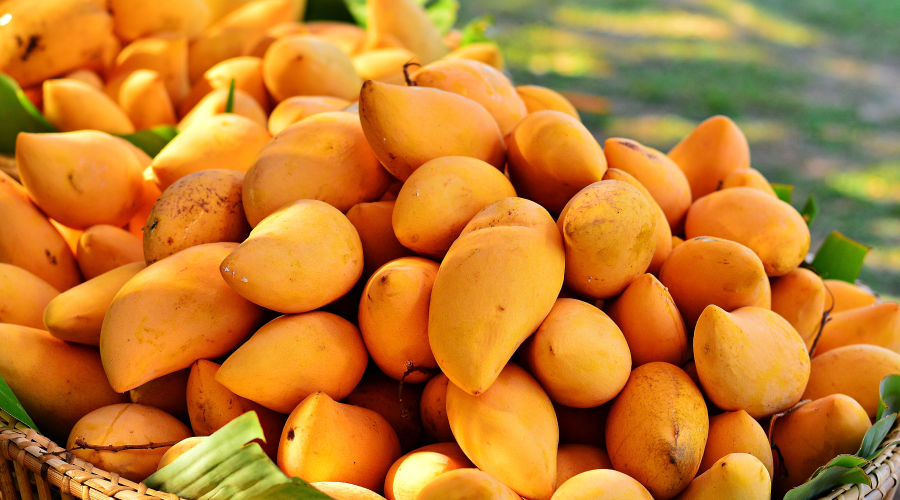 African mango is one of many popular weight loss supplements on the market.
Although relatively new to the Western world, it has been consumed and used medicinally for centuries in Africa.
This article discusses the nutritional value, advantages, and disadvantages of African mango.
What Is It?
If you were hoping that African mango supplements would help with weight loss, you should know that the research on this is thin.
Irvingia gabonensis (IG) is the Latin name of the tree grown in Central and West Africa that produces a fruit similar to a mango and nicknamed African mango, wild mango, dika nut, or bush mango.
In areas where IG grows, its flesh is widely eaten. But it's the seed or nut (fresh or dried) that contains the supposedly powerful ingredients. Sold almost exclusively online, the seed extract comes in powder, liquid, and capsules.
There is no pill that will peel off the pounds. Talk to your doctor before taking any supplements.
Use
Research on African mango shows beneficial effects for diabetes and obesity, as well as analgesic, antimicrobial, antioxidant, and GI activity. Ethnomedicinal treatments utilize the bark, kernels, leaves, or roots for a variety of ailments. Numerous studies exist on the potential industrial application of African mango in food, cosmetic, and pharmaceutical products.
Just 3.5 ounces (100 grams) of African mango fruit — both the peel and the pulp — contain the following nutrients (10Trusted Source):
Calories: 86
Protein: 1 gram
Fat: 0.4 grams
Carbs: 18 grams
Vitamin C: 62% of the Daily Value (DV)
As you can see, the fruit itself is very high in vitamin C.
Health Benefits
There are few studies on the health benefits of African mango, and the majority of them are sponsored by supplement manufacturers. However, limited research published in peer-reviewed journals supports the use of African mango as a dietary supplement.
It is important to note, however, that studies on the fruit do not necessarily indicate that the supplement will produce the same results. Here are several possible health benefits.
May Aid Weight Management
A thorough meta-analysis of Irvingia gabonensis revealed that this fruit has the potential to aid in weight loss. Here are two examples discussed by researchers.
In one placebo-controlled, randomized, double-blind study, participants received 350 milligrammes of the seed extract or a placebo for four weeks. The results demonstrated that the Irvingia gabonensis group lost more weight than the placebo group.1
In another double-blind, placebo-controlled study, 150 milligrammes of Irvingia gabonensis or a placebo were administered to 102 participants. The treatment group lost more body weight, waist circumference, and body fat percentage than the placebo group after 10 weeks.
In a systematic review of the effectiveness of African mango supplementation, 208 participants demonstrated statistically significant reductions in waist circumference compared to placebo.
May Improve Cholesterol and Triglyceride Levels
In a review of randomised controlled trials of African mango, researchers discovered that supplementation with Irvingia gabonensis improved the blood lipid profiles of participants.
In a separate study, it was found that the high soluble fibre content of African mango may reduce plasma cholesterol and triglycerides.
May Aid Digestion
Irvingia gabonensis extract is high in fibre, which can promote healthy digestion and keep you feeling fuller for longer (and thereby, eating less).
Does African mango have any downsides?
Despite the lack of research, AME appears to have few, if any, side effects.
Nonetheless, extra caution should be taken when purchasing African mango products to ensure their safety and purity.
Toxicology and adverse effects
Animal studies indicate that AME has no adverse effects or toxicity (3Trusted Source).
In human studies, only headaches, gas, sleep difficulties, and constipation have been reported. However, it is questionable whether AME caused these effects, as placebo groups also demonstrated them.
After 2.5 months of taking AME, one individual with chronic kidney disease was required to begin dialysis, according to a case study. Still, additional study is required.
Authenticity
A study of AME and African mango dietary supplements revealed that certain products did not contain authentic seed extracts (9Trusted Source).
Keep in mind that the Food and Drug Administration (FDA) regulates supplements differently than medicines, which means that their safety and quality cannot always be guaranteed.
Therefore, you should seek out AME products that have been evaluated for purity and quality by an independent laboratory. Labs such as USP, ConsumerLab, and NSF International may add their own labels to dietary supplements.
African mango dosage
No set dosage for AME exists.
Nonetheless, a small number of studies have reported potentially effective dosages ranging from 150 mg twice daily to 1.05 grammes three times daily.
In addition, one study suggests taking AME 30–60 minutes prior to a meal.
Before taking any new dietary supplements, you should always consult a physician.
The conclusion
African mango is an indigenous tropical fruit of West Africa. The extract, known as AME and derived from the fruit's seed, is in high demand.
Emerging research suggests that AME may aid in weight loss, but the study populations were small. Consequently, numerous additional human trials are required.
If you are interested in AME, you should first consult a healthcare professional.