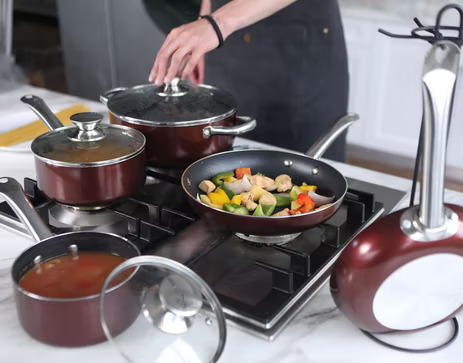 When we think of pots and pans, most of us probably picture heavy stainless steel or cast iron skillets.
Those materials have been the standard for decades because they're incredibly durable and are great conductors of heat. But in recent years, non-traditional types of cookware have been gaining popularity.
Ceramic titanium cookware, also called hybrid cookware, is one of those new trends.
Manufacturers claim that these pots and pans can be used on the stovetop or in the oven at temperatures ranging from low heat to high heat (although not both at once).
They also tout these cookware pieces as lightweight and non-reactive.
Does this mean you should clear some space on your kitchen shelves for these pots and pans? Or should you keep looking?
Let's take a closer look at ceramic titanium cookware to see if it's right for your home kitchen.
What is Ceramic Titanium Cookware?
Ceramic titanium cookware combines two materials that have very different properties: ceramic and titanium.
Ceramic is used to make the interior of the pots and pans, while the exterior is made of titanium. This combination makes it possible to create one piece of cookware that is non-stick, non-reactive, and has a long lifespan.
Ceramic and titanium are both very long-lasting materials.
Ceramic is strong enough to resist scratching and cracking, while titanium is one of the most abuse-resistant metals on the planet.
Because ceramic and titanium are non-reactive and have non-stick surfaces, food won't stick to the pans and is easy to clean up.
How Do Ceramic and Titanium Mix?
Ceramic titanium cookware pieces are not made of ceramic and titanium that are fused together. Instead, ceramic titanium is a stainless steel pan with a ceramic coating applied to the inside.
Ceramic is an excellent non-stick surface material because it's an extremely hard mineral that doesn't break down easily.
It's also non-reactive, so it won't interact chemically with different types of food.
Ceramic is a very hard and brittle material, however. It's also very heavy, making it unsuitable for use as the entire base of a piece of cookware.
Titanium, on the other hand, is a very lightweight and strong metal.
When ceramic and titanium are combined to make a cookware piece, they each bring their best properties to the table.
The inside of the pan is a ceramic surface, while the outside is made of titanium.
Is Ceramic Titanium Cookware Safe?
For the most part, ceramic titanium cookware is a safe product. It's non-reactive, so it won't react with food or other substances that are stored in your kitchen.
It's also non-stick, which means food won't stick to the surface and you can clean it easily.
Ceramic titanium is not without its safety concerns, however. The ceramic coating on the inside of the pot or pan is made with materials that may be harmful if ingested.
In a ceramic pan, metal oxides are added to ceramic for color and to make the ceramic non-porous.
While these oxides are not harmful at normal temperatures, they can be toxic when heated to high temperatures.
Ceramic pans are not designed for use with high-temperature broiling or grilling, so if you use the pan with these cooking methods, the ceramic coating will break down and could possibly get into your food.
How To Care For Ceramic Titanium Cookware
Chips and cracks are inevitable with ceramic titanium cookware .
The material is so durable that it's hard to damage, but it can chip or break if dropped. Don't try to repair ceramic titanium cookware yourself.
Even a small chip can lead to cracks that will spread and make the pan unusable.
To care for your ceramic titanium cookware, take these steps:
To clean ceramic titanium cookware, use a sponge or dishcloth to wipe it down with soapy water.
Always hand-wash ceramic titanium cookware because the abrasive materials in many automatic dishwashers could damage the non-stick surface.
You can also wash this cookware in the sink, but you'll need to be careful of hot splashes.
Ceramic titanium cookware is normally not dishwasher safe. When you wash your ceramic-titanium cookware, use a soft sponge or a non-abrasive cleaner to avoid scratching the surface.
You can also hand wash your pan with mild soap and warm water.
After washing, use a soft cloth to dry the surface of the pan and avoid exposing it to high temperatures, as this may cause damage.
Who Should Buy Ceramic Titanium Cookware?
If you are a fan of non-stick cooking surfaces and you want a long-lasting piece of cookware, ceramic titanium cookware may be a good option for you.
Their non-stick properties make them great for making eggs and pancakes, while their heaviness makes them ideal for sautéing or browning.
If you often use a high-heat cooking method, such as grilling or broiling, however, you may want to look for a different type of pot or pan.
Ceramic titanium is not designed for high-heat cooking and the ceramic coating may break down and become toxic.
Who Shouldn't Buy Ceramic Titanium Cookware?
If you're a very health-conscious cook and you're worried about the safety of ceramic titanium cookware, you may want to steer clear of these pots and pans.
While the ceramic coating is non-stick, it's also non-porous, which means it's not a great conductor of heat.
Ceramic titanium pots and pans are best used for low-heat cooking, like boiling water or simmering a soup.
Ceramic titanium cookware pieces are also very expensive, so if you're looking for something on the less expensive side, this may not be the best choice for your kitchen.
Still, if you're willing to pay the price, ceramic titanium is a high-quality product that will last a long time.
How To Tell If Ceramic Titanium Cookware Is Dishwasher Safe
If you're shopping for ceramic titanium cookware online and want to know if it's safe, there are a few things you can do to make sure you're buying a safe product.
First, check the description of the product and see if it says that it is dishwasher safe. If not, then you know that the manufacturer recommends washing by hand only and that means you're buying an unsafe product.
Second, look at reviews from other customers who have purchased this type of cookware in the past.
If there are many complaints about breakage when using the product in the dishwasher or reports of food getting into their mouths when eating food cooked in ceramic pots and pans after being washed in the dishwasher, then know that ceramic titanium cookware may not be right for your kitchen.
Ceramic Titanium CookwareVs Ceramic Cookware
In the event that you are still unsure about employing ceramic titanium cookware, you may wish to hunt for an alternative.
Ceramic cookware is common, but should you be concerned about its effects on your health?
Ceramic cookware is made from clay, and clay is a great material for heat retention.
Ceramic cookware can be used in the oven or on the stove, and it can be used for both cooking and baking.
In addition, ceramic cookware can be used for other purposes such as smoking food and making hot pots.
Ceramic titanium cookware is made from aluminum oxide ceramic, which is typically mixed with titanium dioxide powder.
The reason why this ceramic titanium cookware differs from other types of ceramic cookware is that it has a scratch resistant coating on top to make it scratch resistant.
This means that unlike other types of ceramics, you will not have to worry about your cookware getting scratched up over time when using this type of cooker in your kitchen.
The Bottom Line
Ceramic titanium cookware is a great choice if you want a non-stick pot or pan and you're willing to pay a premium for a long-lasting product.
It may not be the best option for someone who uses high-heat cooking methods, as the ceramic coating may break down and become toxic.
Ceramic titanium cookware is a great option for anyone who wants a non-stick, long-lasting product that is easy to clean.
Before you make the investment in a ceramic titanium cookware set, however, make sure you know what you're getting yourself into.
Read Next – What Is Coriander Root? 5 Incredible Uses and Benefits of This Essential Ingredient!